It looks like it might be a little difficult to iron vinyl onto burlap, but it's really not if you know a few tricks! This Mother's Day gift idea is good way to give vinyl and burlap a chance. It's a Craft Lightning idea made with my favorite crafting tool, my Cricut machine, so it only takes a few minutes to make.
You know what is even better than a lovely Mother's Day gift made with your Cricut machine? A Cricut Machine for your mother. And one for you, too! Me and my Craft Lightning bloggy friends are giving away TWO Cricut Explore Air 2 machines, one for you and one for your mom!!!
Not only that, but you'll EACH get a $125 gift card to pick up any supplies you need (or a new EasyPress 2!) to get started in the wild world of Cricut crafting. Be sure to scroll to the bottom of this post for your chance to enter.
how to make a mom is the best life burlap tote bag mother's day gift
To start this super quick project, you'll need to gather up some supplies:
Burlap tote bag (this one came from Hobby Lobby)
Cricut SportFlex iron-on vinyl
Pre-made felt rose (optional)
To cut out your "Mom life is the best life" image
Unzip and upload the "Mom Life" svg to Cricut Design Space.
Resize image to fit your bag.
Click "make."
MIRROR THE IMAGE!
Choose SportFlex as your material.
Put the SportFlex on a super sticky mat shiny side down and load the mat into the Cricut machine.
Click the blinking "C" and wait for the cut to be complete.
Weed out the extra bits of vinyl before going on to the iron-on portion of this project.
How to iron vinyl onto burlap
Burlap has big giant holes in it. A really loose weave becomes a little bit of an issue, as there isn't really anything for the vinyl to grab onto when you're ironing on. But–it's not the end of the world, you just have to know how to fix it.
Place your cut and weeded vinyl onto the bag. Shiny side up, so you can read the words. Use your EasyPress 2 (or iron) to press the vinyl into the burlap. Cricut has other ideas, but I did 40 seconds at 315 degrees. And I did that press three times.
After that much pressing, the vinyl did NOT stick to the burlap. Don't get worried if this happens to you. Here's what you do.
how to get vinyl to stick to burlap
Take the end of one of your weeding tools (or any other blunt object) and rub each letter into the burlap. The vinyl will release from the carrier sheet. It's an extra step, but with the wide weft of the burlap, you're going to have to help things along manually. The two to three pressings will make the letters nice and melty so they'll easily come off with encouragement.
What happens if I mess up part of my vinyl?
Again, not to worry. (Most) things can be fixed! In fact, I lost an I and an E when I did this project. Scrape the vinyl off your project or the carrier sheet–wherever things have gone wrong.
I don't usually exit out of my project in Design Space until it's on its intended surface. Just go back and cut the letters you need and press them in after the rest of the vinyl is down.
Add an accent to your bag
I had these pretty felt roses (I actually made them with my Cricut machine, but you can find them in the craft store already made) and added one to the handle of the bag just to make it extra nice. But optional if you don't want the rose/can't find one!
While this particular bag isn't going to go to MY mom (even though she would love it), another mom friend of mine is going to receive it…after I load it up with a bottle of wine and a book I loved. A bag like this is great on its own, and even better with a special inexpensive item or two inside.
Enter to win a Cricut Explore Air 2 for you and Mom + two $125 Amazon Gift cards
Here's your chance to make Mother's Day epic!!
See more Mother's Day Cricut Craft Lightning ideas
Head over to any one of these sites for more amazing (and quick!!) Mother's Day gift ideas.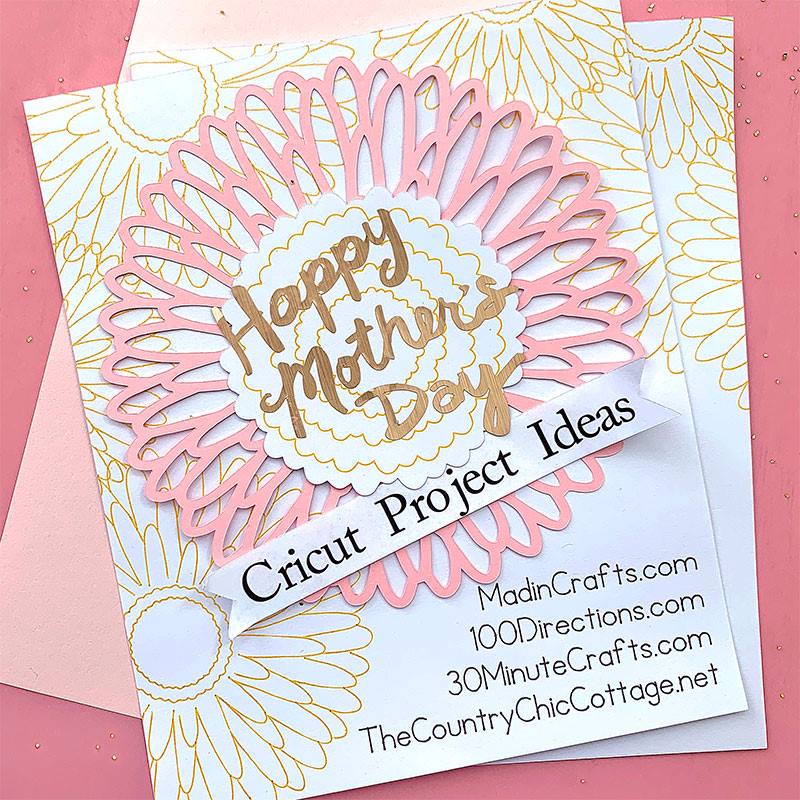 Title:
How to Iron Vinyl onto Burlap – a Mother's Day Gift Idea
Mentions:
cricut, cricut easypress, cricut made, diy gift, diy gift ideas, funny mom quote, mother's day gift ideas, mothers day gift
Last Updated:
February 27, 2019