Ready for a super fast Valentine craft? In this Craft Lightning post, I'm going to show you how to make this super cute Valentines Mini Heart Banner. This is a Cricut project, but if I hear enough feedback, I can set it up as a printable template as well (it'll just take a bit longer than 15 minutes to make).
How to Make a Valentines Mini Heart Banner
In true Craft Lightning style, the time is short, and so is the materials list. Here's what you'll need to make this cute little accent bunting:
Two pieces of stiff felt in shades of pink
3/8 inch ribbon
Hot glue
The length of this banner is totally up to you–it's not pre-set, so you can make it as short or as long as you need to! And if you want a bigger banner, just enlarge the size of the image to get bigger pennants.
Upload Your Free Valentine SVG
From Cricut's Design Space, upload your Valentines Mini Heart Banner SVG image. There is only one pennant in the file.
Go ahead and duplicate the pennant as many times as you need to get the length of banner you are looking for.
CUT!
Hit "Make It" and cut out your pennants, tops and hearts. I used a stiffer felt for this project because I didn't want any droopy pennants.
If you're using a Cricut Maker, I found it easier to set the blade to the rotary blade. You can also make this with the Air and the fine point blade, but you may have to adjust the blade cutting pressure.
Glue your Felt Mini Valentines Banner Together
Hot glue is so wonderful. It makes projects like these super snappy.
Glue all your little triangles to the ribbon first.
Put the pennant tops on. You'll have half the pennant hanging off the top, but we'll flip over the banner soon and take care of that.
Fold the top of the banner pieces around to the back and glue them down.
Add the heart to the center of the front of the banner with a dot of hot glue.
You're done with your felt Valentines banner!
Thanks for checking out another Craft Lightning post–don't forget to go visit our wonderful hosts below and see more great (quick) Valentines projects!!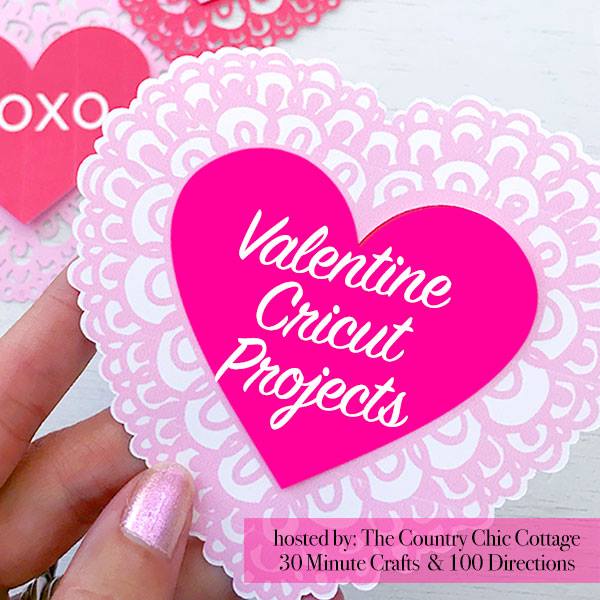 Title:
Valentines Mini Heart Banner with SVG
Mentions:
decorations, diy, free svg, free svg files, tutorial, valentine decor, valentine's day, valentines banner
Keywords:
valentines mini heart banner
Last Updated:
January 7, 2022