This shop for gift card wrapping ideas for teachers has been compensated by Collective Bias, Inc. and its advertiser. All opinions are mine alone. #CollectiveBias #StockedWithLove
There aren't enough Christmas presents in the world to show teachers what they mean to us, but come holiday time, we certainly do try to give them something that they will appreciate as much as we appreciate them. After doing the teacher gift thing for 8 or 9 years now, I can tell you that the answer to the "what do I give the teacher" question is without a doubt money. Or gift cards if you don't want to hand over cash. Teachers spend so much of their own funds to outfit their classrooms so cash is a gift that is going to be way useful — whether that's your teacher getting something nice for themselves or using it for more supplies.
Personally, though, I really don't love just handing over a gift card in an envelope. It's always better if the packaging is a little more fun, and for our teacher, we're putting together a tiny care package to go along with our Target gift card.
As funny as it may seem, I think the request I've heard from my son's teachers the most is that they need more BAND-AID® Brand Adhesive Bandages sent into the classroom for supplies. It stands to reason, as everything is made better with a BAND-AID® Brand Adhesive Bandages at the younger ages as it heals hurts faster. BAND-AID® Brand Adhesive Bandages are also the #1 Doctor Recommended Brand, which is a feel good for parents even if the kids may not care about that tid bit.
You can hover over the picture below to purchase these BAND-AID® Brand Adhesive Bandages if you like!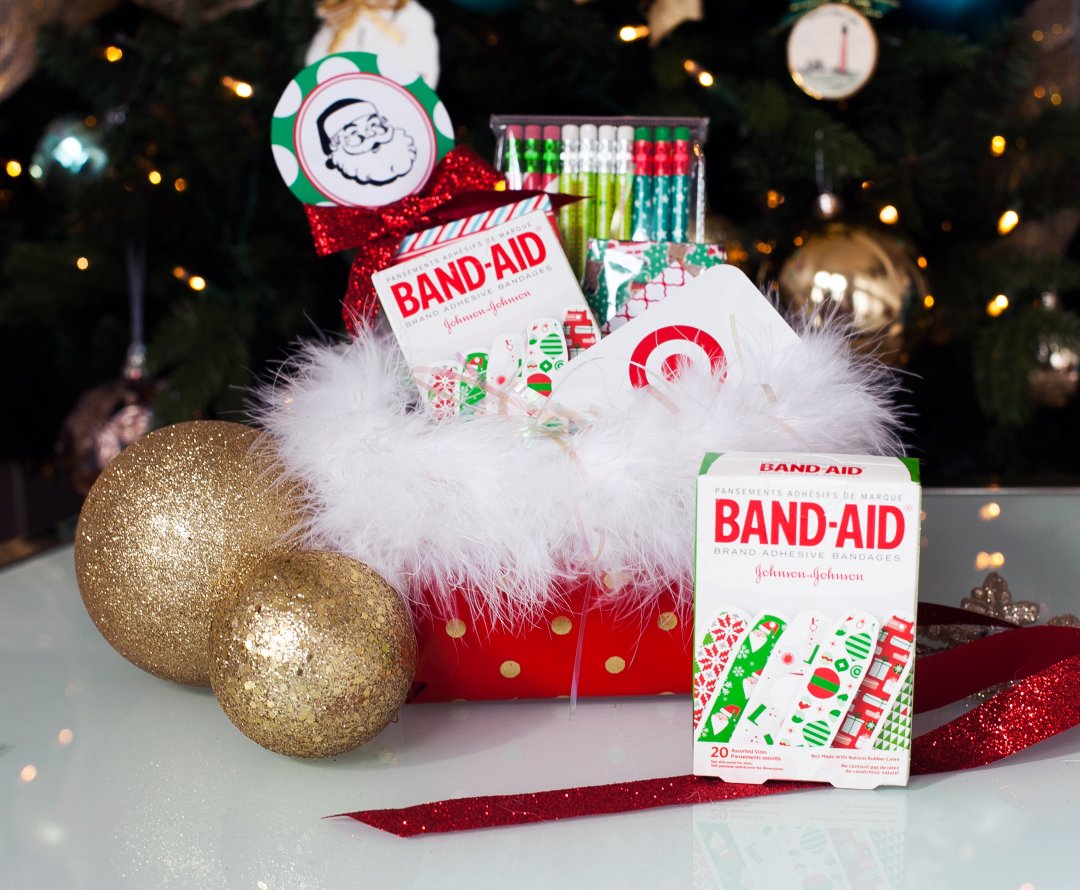 When I saw BAND-AID® Brand Adhesive Bandages holiday collection at Target, it was a sure thing that they were going to make it into the teacher gift. I also spotted a Paw Patrol and Star Wars while I was there. You can find the holiday bandages in the stocking stuffer aisle.
I also hit the dollar spot at Target to find a few other care items for our teacher. Chocolate (of course!), Santa themed tissues (you never know!) and some fresh pencils (I swear the kids eat them) round out the box. I popped a merry mod Santa into the top for some merry mod decor. The finishing touch was a nice gift card to Target.
The little box I stuck everything in I made myself. I took an inexpensive treat box, cut off the lid and wrapped the box in wrapping paper.
A bit of a feather boa was glued to the top of the box with a hot glue gun. Should take five minutes tops to DIY your own box! Depending on how many and how big your items are for your teacher gift, you may want to add some paper shred to the bottom of your box. It'll give everything a bit of a boost and fill in the space to make your present look polished.
Be sure to stop into Target for your teacher gift shopping!
Title:
Gift Card Wrapping Idea for Teachers
Mentions:
gift card wrapping
Keywords:
Gift Card Wrapping Ideas for Teachers
Last Updated:
December 6, 2017